Florida's "Stop the Bleed" Initiative
Join the Initiative which begins in Florida and won't stop until the entire nation is trained and fully supplied! Your contribution today is the foundation needed to "Stop the Bleed" throughout America. Please consider a monthly donation to ensure that as we grow this program, we can properly forecast how many Law Enforcement Officers we can train and equip.
This program will have two main focuses:
Enhance the training of First Responders -police, fire, EMS- to render the most effective medical aid by modernizing training and equipment.
Allow First Responders to bring similar training out to the public forum by hosting "Stop the Bleed" training.
The program will require:
14 EMITT training units
Consumable supplies for EMITT
"Stop the Bleed" Training Kits
3500 "Stop the Bleed Kits"/IFAKs (Individual First Aid Kits) for Officers
733 Active Shooter Response Kits (ARKs)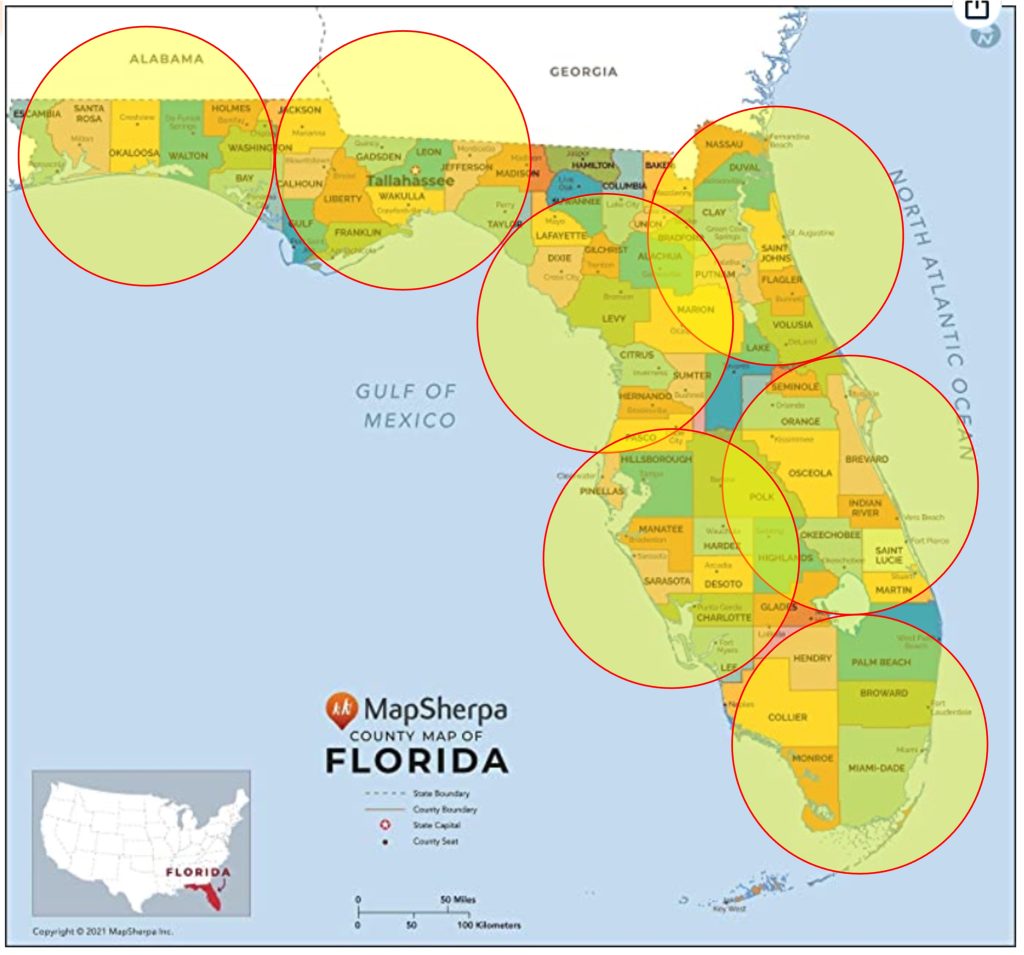 "Stop The Bleed" Training Coverage Across Florida
The yellow circles detail the 2-hour drive proximity to where one (1) male and one (1) female trauma unit will be located for intensive "Stop the Bleed" Training. A total of fourteen (14) high-fidelity trauma simulation units will be available to train law enforcement to protect Floridians and the high volume of tourists which visit the Sunshine State each year.
Essentially, our goal is for 100% of law enforcement to have the ability and skill sets to be certified to properly save lives. So, if you are at home, work or traveling throughout Florida, 1st responding Officers will protect & serve you…
…and can also save your life!
Provide at no charge, Florida's First Responders with state-of-the-art human patient simulators, which may otherwise be cost prohibitive for these agencies. These simulators will allow first responding personnel to train for real life situations on equipment that replicates a real human producing a higher level of medical proficiency when seconds count. They will be housed at strategic locations across Florida ensuring ease of access for all. (see map)
Provide at no charge, state of the art first responder trauma care equipment to agencies who provide coverage throughout Florida. This equipment will be readily accessible in emergency vehicles or as part of a First Responders uniform to render immediate and lifesaving aid in any traumatic situation, regardless of scope.
Empower Floridians to learn 'Stop the Bleed' by interfacing with community First Responders. Equipment such as tourniquets, wound packing gauze and pressure bandages will be provided for training and community distribution.